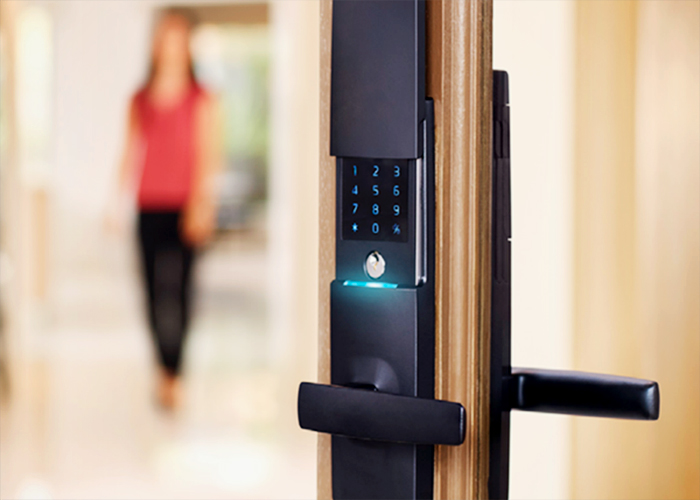 Smart-Door-Locks---Trilock-from-Gainsborough-1-100
Electronic Door Locks
Electronic or Digital locks are electronic or battery-operated locks that do not require the use of conventional keys for access. Say goodbye to lost, stolen and forgotten keys forever! Our tech-obsessed world means that everything is going digital, and that includes door locks.
Types of Electronic Door Locks
There are many options for digital door locks. These include;
Coded entry: This is the most common type of electronic door lock. A code must be entered into the keypad to unlock it.
Smartphone-operated lock: These locks require a smartphone to be activated using an app, and they can be operated from anywhere that there is a wireless connection
Biometric: Biometric door locks are operated through a fingerprint. Other biometric options include voice-activation and eye scanners, however, these electronic door locks are expensive.
Benefits of keyless door locks
Easy to use- Coming and going is effortless without keys.
No keys to lose- You won't lock yourself out of your home again!
No more hiding keys in insecure locations-Never keep a key under your doormat again
Greater control- Keep track of comings and goings. You will instantly get to know who has come into your home judging by the pin that was entered. This helps immensely if you want to make sure your children have safely reached home.
What do you need to consider before purchasing a digital door lock?
Despite keyless door locks being easy to use, they must be fitted to a quality door. A keyless door lock won't stop an intruder kicking the front doors down, so consider upgrading your doors before deciding to install a keyless door lock to an old and flimsy door.
Not all keyless locks are created equal, so do your research before committing to a brand and style. Make sure that you look at the technology, functionality, reliability and customer satisfaction before investing in a digital lock for your home. Its worthwhile examining where and how it will be used and what features you'd like it to have.
Do not purchase a cheap digital lock from Asia. These usually have great electronic features, but the furniture breaks down i.e./ Latch bends, handle breaks etc. We currently recommend Samsung, Gainsborough, Lockwood and Schlage systems.
Before purchasing a digital door system, check that the internal section of the lock can be accommodated on your existing door. Many digital door locks have very large backing plates.
Digital door locks are typically more expensive to purchase and install then a standard lock.
To find out more about digital locks and the best models feel free to get in touch with us for friendly help, advice and assistance. We are able to supply and install a wide range of locking solutions and we're happy to advise you on the best locks to suit your budget and your needs.